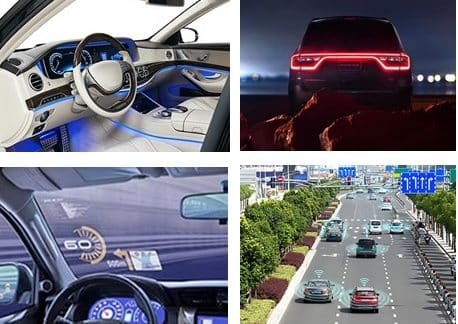 LUMINIT AUTOMOTIVE TECHNOLOGIES
Welcome to Luminit Automotive Technologies! We are a leader in the fields of microstructure mastering and fabrication and specialize in advanced optical solutions for US-, European and Asian-based automakers and Tier 1 designers. Applications include precise beam shaping for LiDAR sensors, 2.5D and 3D custom injection molded parts for taillights and daytime running lights, Light Shaping Diffusers for head-up displays and diffusion and beam control for interior lighting and dashboards. Specialty optics include:
• Light Shaping Diffusers®
• Computer Generated Holograms (CGHs)
• Light Shaping Microoptics (LSM)
• Prismatics and advanced microstructures
OUR MISSION
Luminit Automotive Technologies is dedicated to providing automotive industry qualified mass production ready microstructure based lighting solution for both exterior and interior lighting needs.
Read more
Precise LIDAR Beam Control Luminit's Light Shaping Microoptics (LSM) can diverge, divert and shape r [...]
Read More
Light Shaping with Advanced Optics Luminit Light Shaping Diffusers® enhance LED fixtures for automot [...]
Read More